Here's how to make the ideal Wedding Cards
Welcome to this article on creating the ideal wedding invitations! Your wedding is one of the most important days of your life, and the invitations are the first thing your guests will see. So it is very important to choose the right card that suits you and your partner and the style of your wedding. In this article, we'll give you tips and advice on creating the perfect wedding cards .
Getting inspiration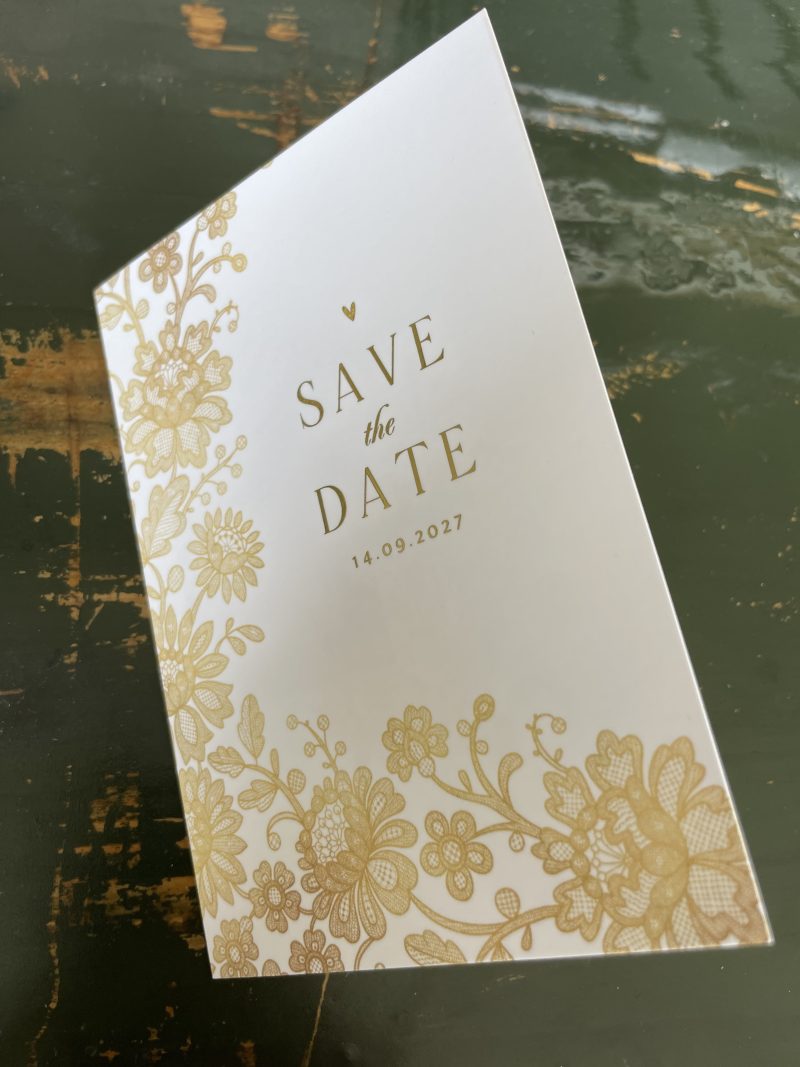 Before you start creating your wedding card, it is important to get some inspiration. There are countless different themes and styles to choose from, so it's good to know which style suits you and your partner best. Of course, you can also just go to Kaartje2go where you can find lots of inspiration to put together the perfect wedding card. The cards you see in this blog are from Kaartje2go! You can request a free proof there and they are all Co2 neutral printed cards as well.
Here are some tips to get you started:
Wedding card themes and styles
There are several wedding card themes and styles to choose from, such as:
Classic and traditional
Modern en minimalist
Rustic and natural
Vintage and retro
Romantic and flowery
Choosing the right colors
The colors you choose for your wedding card are important because they can set the mood of your wedding. Choose colors that match the theme of your wedding and go nicely with the colors of your flowers, decorations and outfits.
Information in the wedding card

Once you've found inspiration and chosen a style, it's time to think about what should appear on the wedding card. Here are some important things to consider:
It is important to include essential information on your wedding card, such as the date, time and location of your wedding. Don't forget to also include the names of you and your partner, as well as the names of the bride and groom's parents.
Timing and RSVPs
It is customary to invite your guests at least eight weeks in advance so that they have enough time to adjust their schedules and make any travel arrangements. Be sure to include an RSVP date on your wedding card so you know how many guests to expect.
Dress code and gift information
If you have a dress code for your wedding, don't forget to include it on the wedding card. It is also helpful to include information about gifts, such as a gift suggestion or a link to your wedding list.
Choosing the right supplier
If you choose to have your wedding cards printed, it is important to choose the right vendor. Here are some things to keep in mind:
Comparing different suppliers
There are many different companies offering wedding cards, so take the time to compare different options before making a decision. Look at samples of their work and read reviews from other customers to make sure you are dealing with a reliable supplier.
Budget and price indications
Making and mailing wedding cards can be expensive, so consider your budget when choosing a vendor. Ask for price estimates and be clear about your expectations and requirements.
Proofs and personalization
Make sure your supplier offers proofs so you can see the design before ordering the entire run. Also ask if you can make changes to the design, such as changing colors or fonts.
Make your own wedding cards
If you choose to make your wedding cards yourself, there are a number of things to consider. Here are some tips to get you started:
Materials and supplies
Use high-quality materials and make sure your design looks neat and professional. Make a proof before you start making a large print run.
You need various materials and supplies to make DIY wedding cards, such as cardboard, glue, decorative elements and envelopes. Make sure you have everything on hand before you start making your cards.
Time and scheduling
Making wedding cards can be time-consuming, so schedule plenty of time to make and ship your cards. Keep in mind the time it takes to buy materials and ship the cards.
Tips for designing the perfect wedding card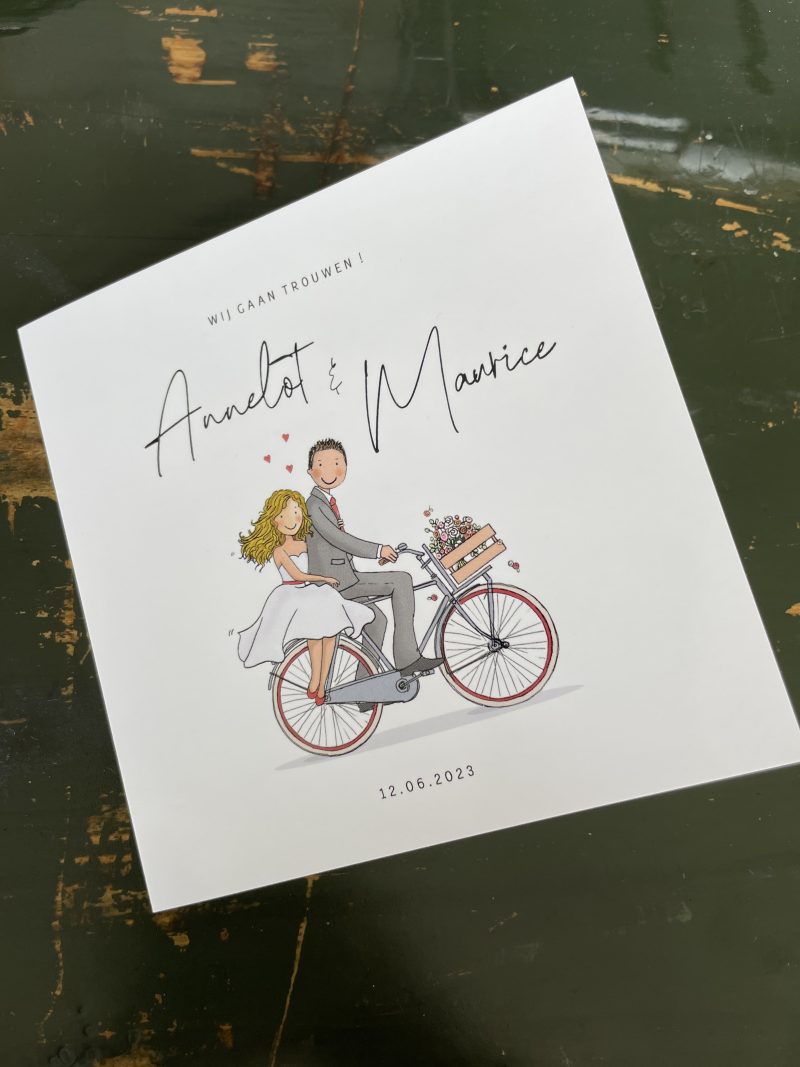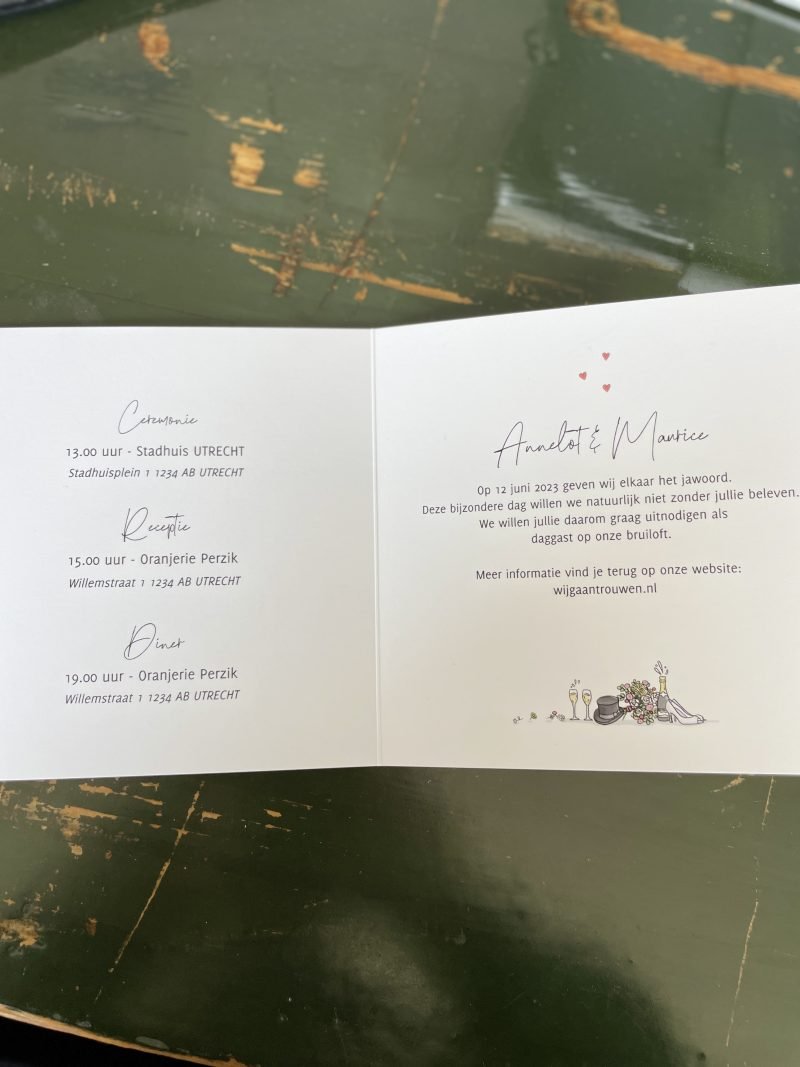 Now that you have an idea of what should be on the wedding card and how to make them, here are some tips to help you create the perfect design:
Keep the design simple and stylish
A simple and stylish design is timeless and will still look good even after years of looking back at your wedding photos. Choose a style that suits you and your partner and keep the design consistent throughout the card.
Choose the right font and color scheme
The font and color scheme are important elements of your wedding card and can set the mood of your wedding. Choose a font that is easy to read and matches the style of your card. Choose a color scheme that suits you and your partner and looks stylish.
Add personal details
Add personal details to your wedding card, such as a photo of you and your partner, or an image that is important to both of you. This will make the card unique and personal.
Conclusie
A wedding card is an important part of your wedding and can give your guests a first impression of what to expect. Whether you choose to create DIY wedding cards or have professional wedding cards printed, it is important to devote adequate time and attention to the design and content of your wedding card.